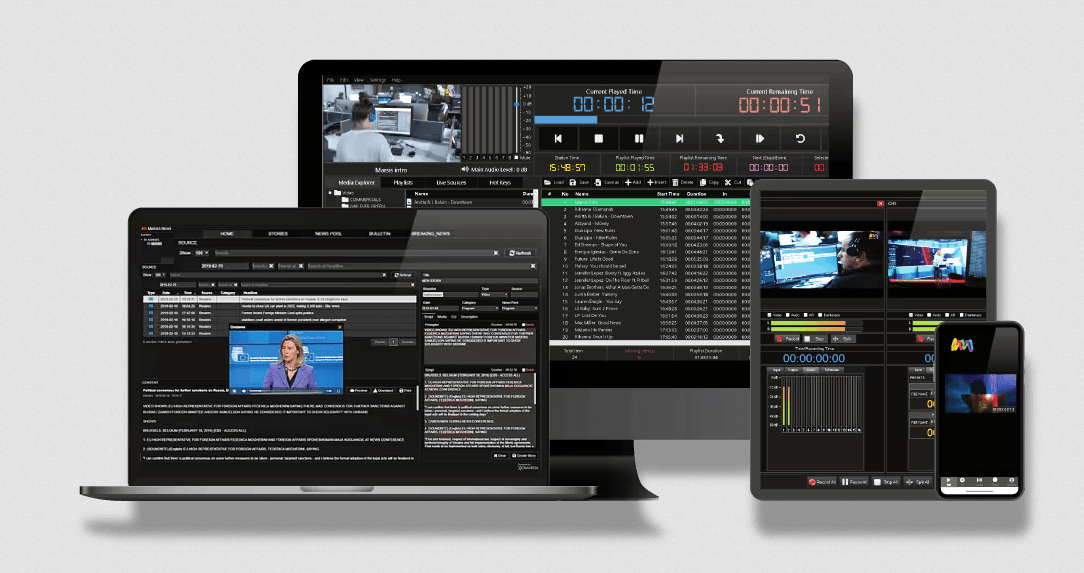 AV Media
From single channel in a box to multi seat workflows
VM Cloud is a reseller of the AVMeda Marsis suite, which includes solutions for every part of the broadcast workflow, proven with hundreds of customers around the world.
Marsis Playout
Marsis Playout can be used as a standalone unit or database driven workflow automation product in Master Control, Studio, News production or web TV applications.
Marsis MAM
Marsis MAM is a powerful asset management system. The multi-seat operation allows each user to access, preview, search, or edit on the proxy files at the same time. MAM has a unique system design with scalable web servers, search engine and transcoders in the background.
Marsis CG
Marsis CG is an easy to use and powerful unlimited layer Graphics Engine designed for TV Channels, Info Screens, Digital Signage applications and more.
Marsis Ingest
Marsis Ingest is multi-channel and multi-profile recording solution with IP and Video inputs. Ingest can record up to 8 channels in a single workstation in certain codecs.
Marsis Newsroom
Marsis Newsroom is a new generation high-end flexible newsroom computer system designed to meet today's complex news workflows.
Marsis Streamer
Multi-Profile encoder with supported formats UDP, SRT, RTMP, and HTTP. Streamer can also do format conversion, accept PAL from SDI and stream in NTSC frame rate with on the fly conversion.